Joyce (Joy) Mary Atkins
21st February 1926 – 2nd April 2017
Charles (Chas) Frederick Atkins
26th April 1921 – 8th September 2017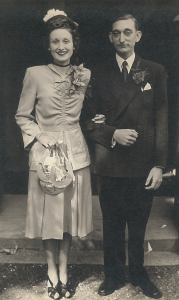 Joy was born to Joyce and Harold in London on the 21st February 1926; she was their only child.
She went to school in London and then a boarding school in Hertfordshire.
In a display of what was Joy's independent strong willed nature, she once climbed onto the school's laundry roof in protest at being punished for a minor misdemeanour.
That said, she wasn't a wild child, she was a city girl; very stylish and fashionable.
In her late teens, as a keen dancer Joy won a Jitterbug swing dance competition; one of a group of dances that developed with the swing style of jazz music in the 1920s.
At the age of eighteen, having left school, and with the world still at War, Joy joined the Land Army. So, this 'city girl' found herself living in the countryside where she boarded with other young women in similar circumstances.
Chas was born in Fulham on the 26th April 1921 and was the youngest of Albert and Rose's family of eleven children.
As he was the youngest child his siblings had in the main flown the coup by the time he was a toddler. Tragically when Chas was only twelve years old his father died of TB and two years later his mother died.
Following the outbreak of the Second World War Chas joined the Royal Navy. But when aged only 19 he was captured by the Japanese in Singapore and became a Prisoner of War in Changi and other camps for the duration of the War.
Post war Joy returned to London and obtained employment as an office worker. Mutual friends, arranged a blind date with Chas, they were to meet in a tube station; where Joy remembers hiding behind a pillar to take sneaky peek, just to check him out before they met. She approved, and they went on to marry in Finchley on the 28th March 1948.  
Chas and Joy initially rented a single room in a private house in Hammersmith. However, within four years, Barbara, the first of their two daughters arrived, and they'd bought their own home at 66 Iffley Road. Barbara's little sister Jayne was born nearly three years later.
In 1963, the family became 'Ten Pound Poms' when they migrated to Adelaide, Australia in search of a better life. Chas set up his own building business and Joy worked as a waitress in a café and subsequently as a sales assistant in a corner shop; an experience that would benefit the family later on.
Chas and Joy had a wonderful social life in Australia, including attending dinner dances which Joy especially relished. She loved to dress up for these occasions and always looked very glamorous and elegant.
By the late 1960's, the family returned to live in the UK; where in Radlett Hertfordshire, they bought a grocery shop; with accommodation on the upper floor. Chas set up his building business, specialising in garage conversions and refurbishments.
 They were never idle and found time to enjoy many holidays to other parts of the world; including a trip to Malaya and Singapore; the setting for Chas's life as prisoner of war. But they also visited Bulgaria, Spain, Romania and Cyprus, where in retirement they would spend six weeks during the winter months.
They eventually sold the shop and moved to Harper Lane, which became the family home. Joy returned to the work place as a secretary in the local Psychiatric Hospital and remained in that job until she retired at the age of 60. Chas retired aged 65.
They then moved to St. Day in Cornwall, to be near Jayne, son in law Richard and their three young granddaughters Carrianne, Natalie and Krishka. Family was always an important factor in their lives and they were great hands on grandparents who thoroughly enjoyed having the girls after school and taking them away on sunshine holidays.
Chas also became a member of FEPOW in Cornwall; an organisation set up for former Prisoners of War from the Far East.
They celebrated their Golden Wedding Anniversary in 1998 with a family lunch in a local Cornish hotel; followed by a visit to the theatre in Plymouth with Barbara and Jayne.
But their longevity caused a few health issues. They were however, able to live for many happy years in their bungalow by the sea in the Cornish village of Portreath before their increasing frailties resulted in them needing more support and care.
In 2015 both Joy and Chas moved north to Edinburgh, where Barbara lived with husband Jim. Places for both had been found in St. Raphael's Care home.
Joy reached her 90th birthday in 2016 and thoroughly appreciated her birthday party in St. Raphael's; in the company of all the grandchildren and great grandchildren; namely, Jake, Lenny, Marley and Clodagh.
 Joy and Chas both died in 2017; Joy in April and Chas in September. They will be remembered as a loving couple, married for 69 years, and as beloved parents, grandparents and great grandparents.