Robert Brownlee "Bob"
7th December 1947 – 1st August 2017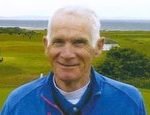 Bob was born to Louis known as George and Jean Brownlee in Edinburgh on the 7th December 1947; a wee brother to John and an older brother for Roselin.
The family home was in Pennywell north Edinburgh but when Bob was seven the family moved to live with Bob's paternal grandmother Isabella in Dalmeny Street Leith, and that's where he grew up. Bob considered himself a Leither; despite being a Hearts fan.
As a lad, to earn a bit of pocket money, Bob always had a job; a paper round, a milk run or he delivered rolls for the local baker and likewise, orders for Minnie of Ketchen Butchers using a Butcher's bike. Bob was never work shy; a trait that served him well throughout his life.
He played football with a real passion; taking a leaf out of his dad's book; an ex- amateur footballer. But some of Bob's fondest memories from his early life were the days when with their dad they'd take a flask and sandwiches and go walking in the Pentlands. Even sitting under a tree in the rain to eat lunch. Walking was something he and his wife Margaret particularly enjoyed.
Bob's first job was as a searcher of records for Millar & Bryce; and that's where in 1964 he met Margaret. They married on 21st December 1968 in Viewforth Church.
After a quick honeymoon in St. Andrews they returned to Edinburgh to enjoy what was anticipated as their last family Christmas in Scotland as they were bound for Australia taking advantage of the £10,00 passages on offer.
They lived in a flat by the sea in Cronulla about 20 about miles south of Central Sydney.
But three years later family circumstances changed and with the birth of the first of their two children, Fiona; they returned to Scotland; where they had their son Alan.
Bob successfully completed an HND computer course and subsequently settled into a job with the University of Edinburgh at the Bush.
He would remain working for the University until he was diagnosed with stomach cancer in 2011 and officially retired in 2012.
For many years the Brownlee's home was in Penicuik; a great place to live; that afforded easy access to the countryside, which as a family they very much enjoyed.
In 2004 however they moved to live in Dunbar.
Bob was a golfer; and was a member at West Linton for eighteen years before joining Dunbar Golf Club where he enjoyed 13 happy years. Bob and Margaret often played golf together; both at home and abroad.
As a doting grandfather to Red and Rliey; typical Saturday activities together comprised visiting KFC for lunch and Climbing Club. They are as Bob himself said; "the lights of my life." His last message to them was; "Reach as high as you can and be all you can be and more!"
Of his children he said; "To my son Alan, daughter Fiona and son-in-law Chris, you have been here for me, for us; your love and support was really appreciated!"
And of Margaret; Bob's last note reads; "Margaret, the LOVE of my life. I am sure, without a doubt that I would not have got through the last five plus years without the love, support, help and understanding that you have given to me. Words wouldn't be enough to express my feelings of love and gratitude, except, simply.....Margaret,  I love you."
Through all the years, family life was good and included a variety of holidays; from those in the UK to that significant family holiday in 2015 in the South of France when Bob, Margaret and Alan, met up in Carcasonne, with daughter Fiona, husband Chris and their two children, the grandchildren, Red and Riley.
Bob the golfer
Dunbar Seniors was as Bob said; "a major part of my social life over the last five years and I thank you all for being part of that.......you know my tips were boringly good!"
Indeed, the senior golfing fraternity at Dunbar would vouch for that. His fellow committee member Dave Simpson recalls his first meeting with Bob. "A bloke with a wide grin and outstretched hand strode across and said;" "I'm Bob Brownlee; How're you doing?"
Dave's first thought was; "This is one of the good guys" Then he discovered he was a Hearts Fan! Although he did confide in me: "No matter how long I live Dave, I never expected to see the Hibees win The Scottish Cup"
"New members joined the section and that same story was retold by innumerable new members joining our Happy Band: -- broad grin / outstretched hand / warm welcome / asking, "how're you doing." That visual image is how many will remember Bob.
He served on the committee and totally impressed everyone with his meticulous attention to detail; all carefully recorded in finely crafted script in his, 'Wee Black Book.' Bob  was Good natured; good humoured; organised, and a master at conflict avoidance, who never spoke ill of anyone; just a wee Bob chuckle at some of the antics of the miscreant members. But he was absolutely no pushover, and endlessly optimistic. On the course he was a bit of a competitor, with a core of steel. He was the best kind of sporting adversary; intensely competitive on the park, but didn't carry any of the baggage off it.
Bob loved his sport: playing it; watching it; talking about it and had an encyclopaedic knowledge of all fitba related matters (of all colours), but at the end of the day, Sport is what it is: as the Great Scottish Sportswriter Hugh Mcillvanney once called it: "A Magnificent Triviality."
Bob played 18 holes until he couldn't, then a few less, then used a buggy, then became the senior section's unofficial photographer.
In an era when self-projection and self-obsession is the norm, Bob's default was to be interested in other people, never dwelling on himself. His standard response to enquiries about his own health was: "I'm fine, - how're you"
In Life, as in Sport, you assess individual character by response to adversity, rather than when flushed with success, and Bob Brownlee demonstrated that he had character in spades: Courage/Humour/Integrity/ and --- True Grit.
In echoing Dave's remarks Bob's great pal Ray Foot said; "Even in adversity his sense of humour shone through and he always had a smile on his face. A smile I used to refer to as the 'Louie grin' after his dad, a great character who had a simile which went from ear to ear. He was an inspiration to us all"