James Stewart Robertson "Stewart"
28 March 1941 - 20 June 2018
Stewart was a gentleman; and as Bernard Shaw once said. "a gentleman is one who puts more into the world than he takes out" and that was Stewart to a tee.  He was born to Jock and Peggy in Peebles on March 28th 1941; one of their two children, a brother to Harvey, and they were raised on their father's smallholding in Eshiels.
Stewart became a schoolteacher and was affectionately known as Beaver to his pupils and colleagues and he served as a teacher his whole working life, most of it at Liberton. Ostensibly paid to be teaching maths but dodging out of the classroom as much as possible to do the unpaid activities, like the Monday Club and the famous Pentland Club with their trips up north and abroad.
Stewart was a great traveller; he and his treasured wife Mary especially loved the beautiful City of San Francisco which became their own special place having holidayed there five times. It's also where they will one day have their ashes scattered together down in the Bay.
This slightly altered quote of Herb Caen quote sums up their future plans nicely....."One day Stewart, if we do meet in heaven...We'll look around and we'll probably say, 'It ain't bad, but it ain't San Francisco." Quite simply, Stewart and Mary loved San Francisco like they loved each other.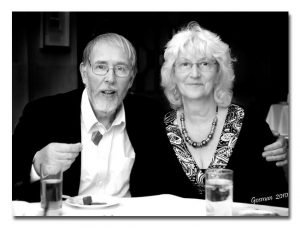 They also followed in John Muir's footsteps around Yosemite National Park many times, walking to their hearts content amongst the granite and the sequoias. And they somehow made it across Death Valley and back, the world's hottest desert, in a hire car that had no air-conditioning; 'that optional extra would have cost an additional $10. Parsimonious right to the end was our Stewart.
The Great Outdoors was Stewart's first love; and of all the tributes paid by former pupils; these are a few:
"I remember him taking a group of Pentland Clubbers bothying. We arrived in Perth quite late and he treated us all to a mince pie supper. Such a lovely man."
"I will always remember our school trip to Morocco in 1982 that he led and my subsequent 2 stone weight loss thru dysentery."
"Thank you, 'Beav', for driving all those minivans full of bantering teenagers into the hills. Sharing the adventure. Fond memories of music and mountains."
As befits a tribute to a maths teacher here are some stats. He had scaled all 280 odd of Scotland's Munros by 1978 and completed several repeats of most of them; a good number with his close friend and climbing partner John Allan. And many with various family members; son David and daughter in law Jane; the twins Jamie and Mark; but also, his beloved nephew Ian Robertson.  All amounting to well over 1 Million feet of total ascent in Scotland alone.
Only 6000 people lay claim to bagging all the Munros. Stewart's name is number 168 on The Scottish Mountaineering Clubs lists of "Compleationists" (as they are known), and pipping him to the post is John Allan coming in at number 167 - (they climbed the last peak together and, it is believed there was an awkward, let's say "Hillary Tensing" sort of moment where only those two know the truth about who got there first – but rumour has it that John used oxygen for the final push to the summit casting a little doubt over his claim!).
But the horrendously painful foot blisters gained from climbing weren't enough for Stewart. Oh no, he wanted to go next level masochist and experience first-hand the agony of 'jogger's nipple.' And so it was that long distance running and 'Sudocrem' entered his life in the mid 1980's....
In keeping with the stats: Stewart and Mary completed 13 marathons and at a conservative guess, around a gazillion half marathons, 10K's and 5 K's together. They were a fit couple to say the least........
If the outdoors was his first love, then music was Stewart's true calling in life. Son David once asked him why he practised on the piano so much. He replied, quite casually and in his typically unassuming way, "I just want to be able to play any tune in any key" – an aspiration which, to most, is beyond comprehension but of Stewart - it's fair to say – "you nailed it man!"
His involvement in the rich musical life of the School is the stuff of legend, especially the now infamous production of Annie Get your Gun (where someone backstage was heard to politely enquire as to the exact whereabouts of the eponymous Annie).
Quotes from pupils on his musical prowess:
"I remember sitting listening to his 'Flight of the Bumblebee' on piano. Simply Mesmerising!".
"The Soft Shoe Shuffle Band has sadly lost a wonderful guy."
"I remember his fantastic keyboard playing in 'Bethlehem Blues'. What a great teacher."
"Thanks to his encouragement he made me feel like a better musician than I was."
Son David wraps up Stewarts musical talents; "very few, if any will know, such was the man's modesty. That the 'Rolling Stones,' appeared on the same stage as Stewart's university band at the 1964 Richmond Jazz Festival in London! They opened the show for the greatest Rock' n Roll Band in the world. And unsurprisingly, there is a great deal of 'Satisfaction' obtained from knowing that!"
During his life Stewart made his mark. He gained his family's love and respect as a proper 'Tribal Elder,' a loving Husband, father, grandfather, uncle and brother; a teacher and a friend.  A truly accomplished outdoorsman and musician!
Stewart was beyond question, one of life's 'gentle men' who put so much more in than he ever took back.