In a similar way to the unity candle and unity sand ceremony. The unity tree planting ceremony can be used to symbolize the joining together of the couple or the joining of their families.
The ceremony is conducted in much the same way as other unity wedding ceremonies are with a table set aside near the point of ceremony. Thereon would be a part potted tree or sapling; perhaps something with special meaning to the couple, and two small buckets of compost, with two trowels and a small watering can.
If the ceremony symbolizes the joining together of both families then the parents may also be involved in this by adding some of the compost to the main pot. And lastly, the couple will add their portion of the same to top up the pot. Finally, a sprinkling of water completes the planting.
Planting the Unity Tree
After the ceremony, the couple may plant the tree in their garden or a special location to symbolize the putting down of roots, longevity and strengths in their marriage.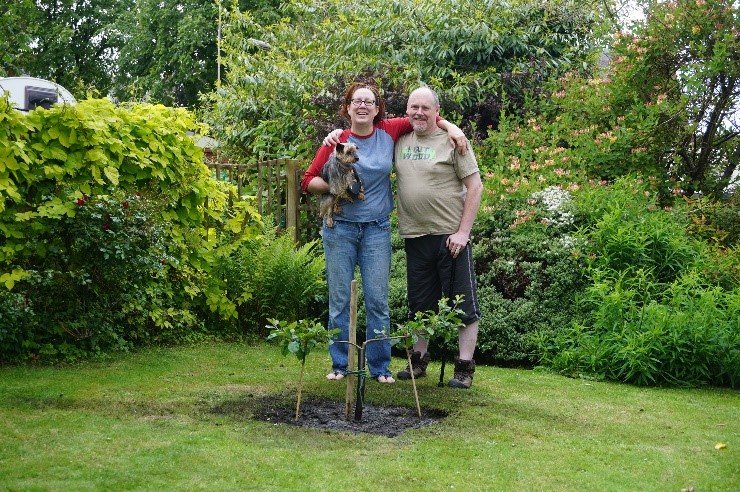 For Gus and Liz; their wedding rings have etched branches with leaves and buds entwined into a Celtic knot. And the inside of the rings are the words "Home is with you". Meaning home, new life, growth and nature.
Gus and Liz gave the tree a little drink during their ceremony and later planted it at home in their garden to remind them of their day as you can see.
Liz recently mentioned the tree has grown healthily and they look forward to the day when the tree is mature enough to provide fruit for those special apple pies.
Your celebrant will be delighted to talk this through with you and offer further words of advice.