Elizabeth (Betty) Baptie Robertson nee Frizzell
12th Nov 1924 - 22nd Mar 1950
Elizabeth (Betty) Baptie Robertson Nee Frizzell Daughter of James and Annie, wife of Duncan and mother of Allan and Duncan.
Betty was born in Brunton's Land Gorebridge in the Parish of Borthwick and was one of James and Annie's six children; a sister to James, Christina, affectionately Ina and who predeceased her, Ann, affectionately Nanny, Jenny and John known to all as Jackie. She was educated locally at Humbie and Pathhead schools. Her father was a shepherd in the East Lothian area and moved between estates; from Whitburgh, to Gilchriston, then Wanside and in 1936 to Craigielaw. The family moved with James's work into shepherds cottages which were not the warmest houses and the facilities were somewhat primitive.
They were at Craigielaw when the Second World War broke out. Betty and her sister Ina went o work as nurses at the Vert Memorial Hospital in Haddington and in 1940 the family moved to Luffness Mill. Nursing wasn't for Betty she much preferred to be outdoors in the fresh air and was glad of the opportunity to be a temporary shepherdess alongside her father who tended sheep on Gullane Hill.
Betty volunteered to join the WAAF's she was posted to the south of England and subsequently London. She was a Barrage Balloon operator during the Blitz which practically stopped the Barrage balloon operations. So it was she was posted to another camp where she trained as a Policewoman. It was while there she met her future husband, Duncan Robertson who was also in the RAF Police and coincidentally his sister Jean who was also serving there in the WAAF.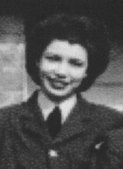 Betty and Duncan married in Aberlady Parish Church on the 17th May 1946 by the Rev, Dr. Thomas Caldwell. They moved to Edinburgh where their first son Allan was born on the 21st February 1948. Duncan was in the Civil Service and was moved to Worcester, they rented a house, Coronation Cottage in Malvern. Betty gave birth to her second son Duncan on the 21st March 1950 but tragically there were complications and she died the following day, the 22nd March.