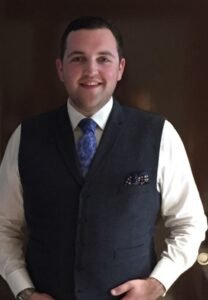 Like many, Tim was a humanist before he knew what a humanist was, spending his time going about daily life trying to live the best life he could! When Tim met his wife and started a family, he formalised his association with humanism and begun a journey to becoming a celebrant.
Tim's profession has centred around communications and corporate relations, and throughout his career he has undertaken training in mental health first aid and linguistics and neuro-linguistics. Tim loves nothing more than the opportunity to get to know people and put pen to paper to help them tell their stories.
Tim was born and raised in England but moved to Central Scotland for work (and like the cheeriest of all fairy tales) he fell in love and lived happily ever after in Dunblane with his wife, two children and kitten.
Living in Perthshire, Tim is able to travel to almost anywhere in Scotland with ease and is happy to do so as a funeral celebrant to support families at life's most important moments. Tim can be reached at 07976772697 or timothy@humanistassociationscotland.com