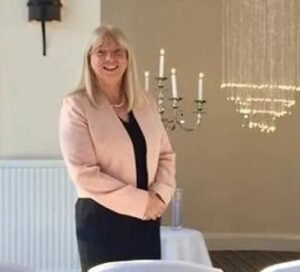 I became a humanist celebrant having been inspired to do so after attending several humanist funerals and weddings. I think the way Humanists celebrate special moments in peoples' lives is personal and values these important times. I believe in the principles and values of humanism and that everyone is important.
I really enjoy conducting weddings. I feel so lucky to be part of a couple's special day. I enjoy planning the wedding ceremonies with couples and providing them with information and choice as to what they would like in their ceremony. Every ceremony is different as it is personal to them. I like travelling around the country. I have been lucky to meet some lovely people and have been to some wonderful venues; some spectacular, and some very small and intimate, but every ceremony is special and important.
I have been helping bereaved families celebrate the life of loved ones in a very personal way by providing funeral and memorial ceremonies focused on the life of the person. I feel privileged to be able to support families and friends in their times of bereavement. I feel we should celebrate the life people have led and focus on what that person has meant to family, friends and acquaintances. Also their achievements in life should be recognised as part of the celebration of their life.
I also provide baby naming ceremonies which again offer a unique and personal service for that special occasion. This is a wonderful opportunity to welcome a new person into the world surrounded with love and acceptance.
I am based in the West Lothian area and I would be happy to work in other areas across Scotland. I can be contacted by email at thirza@humanistassociationscotland.com.