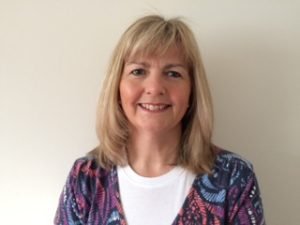 I was inspired to become a humanist celebrant after attending my Dad's funeral in 2005, and since becoming a registered celebrant in January 2007 I have conducted 100's of ceremonies.
Being a celebrant is a great privilege and I enjoy helping people create a meaningful ceremony to mark the special and significant events in their lives. I take great care and pride in my work as a celebrant and have many lovely cards, letters and testimonials from families and couples.
Prior to becoming a Celebrant I worked in the oil industry for 20 years but (without a doubt) being a celebrant is by far the most gratifying and worthwhile job I've ever had.  I'm based in Aberdeen and can be contacted by email rachel @ humanistassociationscotland.com or by calling 07815 555105 or 01224 729219.
Weddings
It's such a huge privilege conducting weddings and I always get a thrill pronouncing couples 'husband & wife' – and of course now that the law in Scotland has changed it is fantastic that as a humanist celebrant I can conduct same sex marriages.  It is important to me that couples feel comfortable and relaxed in my company and that they have the opportunity to have a wedding ceremony that reflects them and who they are.  I aim to give couples a personal and meaningful ceremony on a day they will hopefully always remember.
Funerals
I endeavour to provide families with a sincere, empathetic and uplifting ceremony, and I feel that a humanist funeral should reflect the life and personality of the person who has died in a respectful, fitting and meaningful way.  Conducting funerals (in many respects) is the most rewarding part of my job and I enjoy the challenges associated with them.
Naming Ceremonies
A naming ceremony is such a lovely event for the whole family.  It provides an opportunity for parents to affirm their commitment to their child(ren) in front of family and friends.  It also gives them the opportunity to choose supporting adults (the non-religious equivalent of godparents).
What people have said about my weddings
WOW, what an amazing day we had. We are still so overwhelmed with how amazing the whole weekend was and truly humbled by the occasion. The ceremony was absolutely amazing and all of our guests spoke so highly of your script and how well you conducted the ceremony.
You are well and truly suited to your occupation with your personality and skill set. You made us both feel comfortable and we appreciated that greatly.
Thank you so much.
Deborah & Jamie McMillan
Dear Rachel, we simply cannot thank you enough for all you did conducting our wedding ceremony on the 27th October.  It was everything we had hoped for: personal, warm and heartfelt.  Thank you for all your time and effort beforehand, meeting with us and putting the script together, and always being there to answer any queries and concerns.  All our guests commented on what a beautiful service it was, and we are both hugely grateful to you – thank you.
With love from George & Pam
Hi Rachel, Well what can we say? We have been totally blown away by your service. It was so special and personal with a few giggles which sums us up perfectly. You put everyone at ease and we felt as if we'd known you since the beginning of our relationship. We lost count of the number of friends and family who could not praise you enough and loved the humanist belief. We really do hope we meet you again. We meant to message you sooner but we have been so overwhelmed with everyone's love and well wishes that we are only just getting round to reaching out to all who helped create the most magical day for us.
All our love, Mr & Mrs Hall
Dear Rachel, I'm really struggling to find the words on how I begin to thank you for conducting such a heart warming and personal ceremony on our wedding day. Your calming nature made Gary and I feel at ease throughout the whole ceremony and the way in which you put the script together and conducted the day was really touching. You made our script exactly as he had envisioned, informal yet meaningful and we got so many lovely complements about how personal and touching the service was.  We are really excited to receive our video so that we can relive it all again.
The  symbolic gesture of lighting the candles was a great personal touch to symbolise the coming together of our families and on behalf of our parents, Gary and I we would like to thank you for all your efforts not only on the day but in preparation for the day.
We watched so many wedding videos and got so many recommendations on who to use as our humanist and we have absolutely no regrets, you are a lovely woman and we are so pleased that we chose you. We will most certainly never forget you, all for the right reasons and we will most certainly use you in the future for naming ceremonies if we are blessed to have a family of our own one day.
Thanks Again, Sarah 😊
Dearest Rachel, what can we say…..you were absolutely amazing and we cannot thank you enough for making the most memorable day of  our life what it was.  We have attached a photograph which we think speaks a million words. My family thought you had a very natural ability of putting people at ease and made the whole ceremony exceptionally personal to both Gary and I – which I'm sure is part of your job – but you seemed to surpass this.  We cannot thank you enough for everything you have done for us.
Gary & Helen xx
We would like to thank you from the bottom of our hearts for the amazing ceremony we had on Saturday. Everyone commented on how beautiful it was and how brilliant you were. We had the best day and we really appreciate everything you did to make us husband and wife.
Thanks again Mr and Mrs Grant
We would like to let you know that we were absolutely delighted that we chose you to conduct our humanist ceremony on our special day.  Our ceremony was just beautiful and we couldn't have asked for a lovelier person to marry us. You helped to make our day even more special and we couldn't have been happier.  All of our guests commented on what a beautiful ceremony we had and what an amazing job you did….
(Kyle & Sarah)
So many people said to us, at, and after, the wedding how relaxed, personal and moving the ceremony was, and several told us that is was the loveliest wedding they had been at, and so much of that was all down to you, Rachel.  Your warmth, and genuine interest in people really shone and made the day what it became.  Thank you also for being so quietly reassuring towards us, when we were both a little overcome with emotion….
(Susan & Graeme)
Just a short note to thank you for all your efforts in conducting our ceremony.  The script you created was beautiful and has become a keepsake in itself.  We really didn't expect that our relationship could be articulated in such a way, it was perfect….
(Christopher & Gemma)
We look back on our ceremony with huge warm smiles and goosebumps, you really made it very special for us both and truly memorable, for this we can't thank you enough….
(Laura & Rich)
Funeral Testimonials
I just wanted to say thank you once again for the lovely ceremony you gave for my Mum's funeral.  You made it very easy to talk to you and you really captured Mum's character in your words.  You made a very real and tangible positive difference to lift our family sadness and helped us focus on what Mum would have wanted – the happy memories and the recognition of the impact she had….
(Funeral for Mavis)
Hi Rachel, I just wanted to say thank you very much again for your beautiful service this morning for my brother. You captured in a lovely way the person that he was and it gave me so much comfort at a very sad time. My family and close friends who were there also commented on what a lovely service it was and the warmth with which you spoke. Thanks Rachel.
(Funeral for Bruce)
It suddenly occurred to me after you left our house that you had the awesome responsibility of summing up someone's life in the space of around 20 minutes – someone you had never even met.  I was desperately worried about whether we had given you enough information – the right information – whether we had done Mum justice – but my fears were unfounded.  I read and re-read the script that you sent me and each time I reached the end I felt like I have gone on a journey.  It just felt so right….
(Funeral for Norma)
Dear Rachel,  thank you very much indeed for the service you conducted to-day for Frankie.  It was thoughtful and sensitive and I thought the format with the inclusion of relevant poems made the service special.  I thought that you captured the "essence of Frankie" so well for everyone there and everyone commented on what a lovely service that it was.  Many had not attended a Humanist Service before and were very impressed by how you conducted the service. I agree with them wholeheartedly as I think you created a unique experience for  us all through which we will remember Frankie.  Thank you very much indeed for your help and the care which you gave to me when developing the content of the service.
(Funeral for Frankie)
Rachel, just a small note to thank you for the excellent service you gave for Deborah.  I knew as soon as you took your place and looked at me that we were in for something special and special it was.  It was exactly how I wanted it to be, to hear all the laughter…..you made a sad man very happy that day….
(Funeral for Deborah)