Evonne's interest in becoming a humanist celebrant came to the forefront after attending a number of humanist-led ceremonies.  Impressed with the attention to detail, personal touch and warmth which they provided, Evonne asked a humanist celebrant to officiate her own wedding celebrations!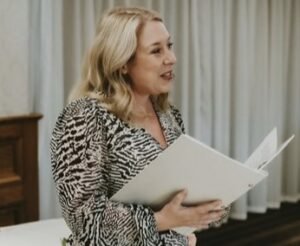 Following more research into humanism as a life stance, Evonne realised that the values are very much what influence the way in which she leads her own life; recognising the importance of every person and living life to full reward.  With this in mind, she decided to pursue her interest in training to become a celebrant. In addition to her work as a celebrant, Evonne delights in being a member of the management team within the Humanist Association Scotland.
Since then, Evonne has had the privilege of working with families and couples to create and deliver ceremonies to mark important occasions in their lives. With a degree in Journalism and a background in Learning & Development, Evonne has considerable experience in writing and public speaking and she enjoys all things creative.  Her  genuine interest in working with people ensures that each ceremony is unique, personal, and memorable.
Evonne McLaughlin is based in Glasgow and is happy to travel across Scotland to create and deliver wedding, funeral and baby naming ceremonies which recognise and reflect the importance of the occasion and of those involved. She can be contacted anytime on 07872 057 674, by email at evonne @ humanistassociationscotland.com or by using our website contact page.
What People Have Said About My Weddings……..
Gillian & Adriano:  
'Just a wee message to thank you, most sincerely for marrying us on Saturday.  Thanks too for keeping my husband from having a melt down!  We have received lots of compliments on the lovely service.  I think everyone, especially our English guests, were really taken by the relaxed atmosphere and laughter that a humanist ceremony offered.  It was exactly what we wanted and I wouldn't hesitate to recommend you to anyone!'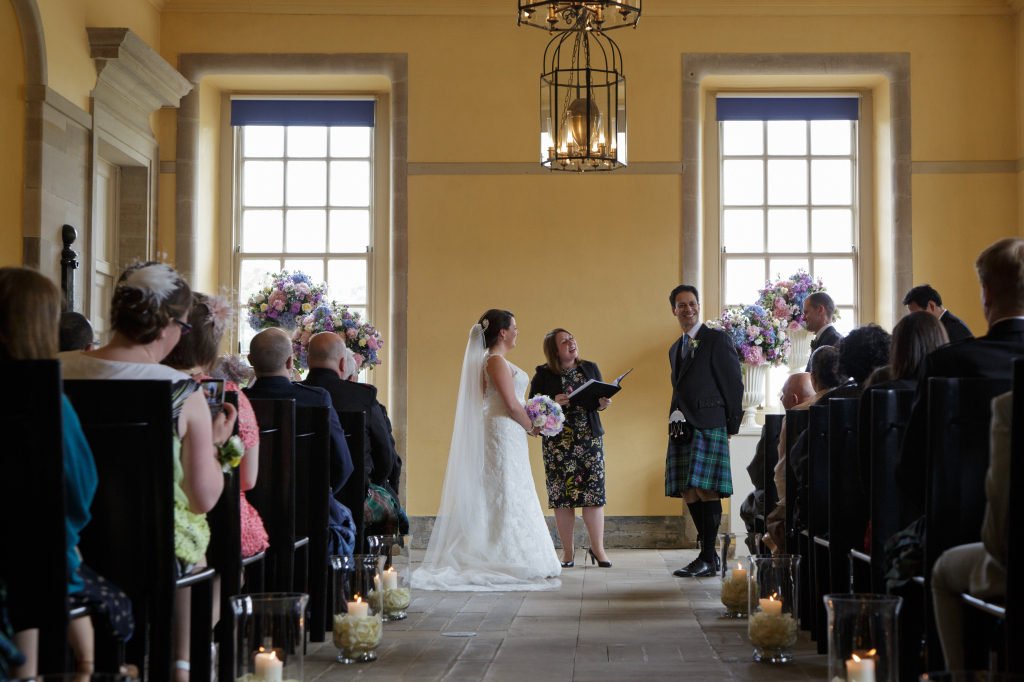 Julia and Allister:
'My husband and I were married by Evonne Mclaughlin on the 1st December 2018 and we both wanted to say thank you to her for making our day extra special. Neither of us got the chance to say goodbye to her after the ceremony and we wanted to say how much we loved our ceremony. We have been to a few humanist ceremonies over the last 12 months and she was by far the best humanist we have seen and all of our guests were of the same opinion. She was authentic and she really created the right mood for the ceremony.  For us the ceremony was the best part of our day and we will always be thankful to Evonne for making this the case.'
Jen & Mat:  
'We wanted to thank you for making our day so special – for both of us the ceremony was the best bit of our day and that was largely thanks to you – you put us both at ease but you just made it so personal and intimate to us, we absolutely loved it!  Thank you so much again Evonne, you've helped give us memories we'll never forget.'
Jenny & Dave:  
'We had to get in touch before we jet off on our honeymoon just to say thank you again for such a wonderful ceremony. So many people commented that it was the nicest, most personal ceremony they had ever been too and that it reflected us so well  ( really soo many people! ) so thank you so much! We will certainly be recommending you to all our friends!'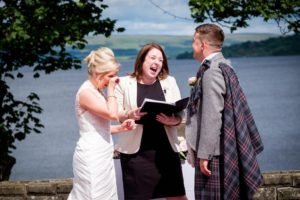 Laura & Graeme: 
'Evonne, you were amazing from day one, helping up to put together a ceremony full of love and laughter. The way you were able to portray the emotions of our words is really a gift! The ceremony was perfect to us and I know our guests enjoyed it too!'
Funeral Testimonials
Funeral For Margaret:
Thank you Evonne for the beautiful ceremony on Friday.  Many people commented on how good it was, and what a good speaker you are. We all felt that your really understood what Margaret was like.  The whole day became a fitting celebration of a much loved, and very loving woman, and brought together all her friends from all age groups, all over the country and all walks of life.
Funeral For Jessie:
Hi Evonne,  A quick e mail to personally thank you for a wonderful ceremony for my mum Jessie.  It was a measure of your reading of the ceremony that everybody loved the way it was laid out and presented, and was a great reflection of my mum's life.  I also felt that you where one of the family when reading it and it made everything feel more personal.
Funeral For Louisa:
Good Morning Evonne, Just a quick note to thank you for the service you conducted for my mum on Monday of this week. I thought you struck exactly the right tone and everyone was most complimentary afterwards. For someone who had never met my mum, you gave a thorough and moving account of her life and we were all very happy with the send-off.
Funeral For Alexander:
Dear Evonne, My Mum and the rest of the family were keen that I contact you to express our deepest thanks for the lovely service you conducted on our behalf.  It was the first humanist service we have attended and my mum has expressed her wish to have the same ceremony at her service when the time comes.  Friends and relatives of my dad also expressed how lovely and celebratory the service was. So thank you so much for all your support and kind words, you were a great comfort to us all and helped us really manage a difficult day.
Funeral For Peter:
Hello Evonne, My family  and I would like to thank you so much for the great job you did at my dad's funeral yesterday.  You must do many funeral services but the feeling that came over, was that you knew my dad really well. That is a great skill. Your speech was eloquent and sincere and your preparation with my sister and I was both professional and personal.  Many of our friends and family said how much they enjoyed the service. The feeling of celebration outweighing sadness was exactly what we wanted to convey and you achieved that perfectly.
Funeral For Beth:
Evonne, A very big 'thank you' from all of us who attended yesterday's ceremony for Beth.  Everyone remarked on how uplifting it was, which is exactly how Beth would have wanted it.  Thank you for making the day the dignified and memorable occasion we all hoped for