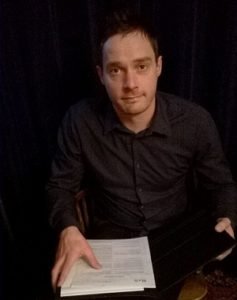 My first experience of a humanist ceremony, was at the funeral of my stepmother's father. I was impressed at how vivid a picture of the man was painted, and at how personal and moving the tribute was. Not long after, my dad married his partner of twenty five years, following a diagnosis of illness. This too was a humanist wedding ceremony, which I found to be humorous, personal and touching.
It was clear to me from both of these ceremonies, that what really counts in the celebration of any life, are the memories we create and the love and friendship we all experience.
Following some research into humanism, I felt its central tenets chimed clearly with the manner in which I seek to live my own life. That is to say, fully, with compassion for others, and always among family and friends.
I have been fortunate enough to undertake the required training to become a funeral celebrant, with the Humanist Association Scotland. I believe deeply that every life deserves respect, and should be remembered with warmth and compassion; and having written two novels -and undertaken an MSc in Publishing- I endeavour always to create a unique and personal tribute, that fully reflects the character and nature of the person for whom I have the privilege of commemorating.
Based in Edinburgh, but with a tendency towards spending time in the Highlands, I'm happy to travel across Scotland to conduct funeral ceremonies. I can be contacted anytime on 07794 874318; or by email at ashton@humanistassociationscotland.com
Testimonials
"Lots of complimentary comments about the funeral, people particularly mentioning it was full of warmth"
Thanks Bruce
"We would like to thank you most sincerely for presiding at the recent Funeral Service for my late Mother, Mrs Shelagh Bruce. It was a pleasure to meet you at Timberbush to discuss my Mother's long and somewhat eventful life, and we are grateful for the time and effort you subsequently put in to compose the excellent tribute which you read at the Service. Many of those who attended commented on how nice the Service was, and it certainly helped us deal with her loss at that sad time."
With kind regards
Ros and Hugh Nicol
Hi Ashton,
On behalf of my whole family I'd like to thank you for the way you conducted the Ceremony and Eulogy yesterday. A lot of people asked if you had actually met my mum as your presentation was so personal.
It was an emotional day for everyone, as you can imagine, but you helped us through it with the perfectly timed delivery. It was great to hear the people behind us chuckling away at the humorous anecdotes about my mum's life. Exactly how we and my mum would have wanted her to be remembered.
Kindest regards
Andy Kerr