The Humanist Association Scotland support the work of World Child Cancer; who could also do with your help as their work continues to expand worldwide through.
Angela's story below, is typical of situations they deal with on a Global scale.
Angela is 6 years old and comes from the Southern region of Malawi. She has Burkitt's Lymphoma – a tumour that grows very quickly and is common in areas where Malaria incidence is high.
In November 2017, Angela came home early from school because she had unbearable pain in her ribs. Her mother, Linda, took her to four different health care centres before finally being referred to Queen Elizabeth Central Hospital, supported by World Child Cancer, where she was diagnosed and started treatment.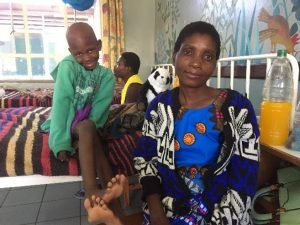 Linda, although married, is unsupported and due to Angela's health issues has not been able to farm this season. She also has four children at home, one of whom is older and married and has moved back home to look after the other children.
Financial costs can be crippling for many families affected by childhood cancer. They have to travel long distances to reach their nearest hospital where they may then be referred elsewhere. These journeys mean time off work for parents, thereby no income can be generated. Coupled with the treatment and medication costs; this puts a financial strain on families.
Although Angela's family are struggling financially, since arriving at QECH and having chemotherapy treatment, the swelling in Angela's stomach has decreased dramatically she is now no longer in so much pain. She enjoys being back at school, taking exams and wants to be a nurse when she grows up.
World Child Cancer works to reduce treatment abandonment rates and to limit the damage caused by cancer within families like Angela's.
And provides financial support to some of the most vulnerable families to ensure that they are able to pay for travel and treatment costs; so their child receives the help they so desperately need.
Donate to World Child Cancer before 21st January 2020 and your gift will be doubled by the UK government, meaning your support will go twice as far.