Twelve years ago my step-mum was diagnosed with Parkinson's disease, and tragically, we've watched on as a family, as her physicality and personality has been slowly taken from her by the terrible illness.
We, like her, hoped that a cure may be on the horizon, but that hope rolls on from one decade to the next. With nearly 150,000 people living with Parkinson's in the UK, research into the illness and possible treatments is vitally important and can only happen with a constant funding stream in place.
For this reason, I've decided to take on a mountaineering challenge to raise funds for 'Parkinson's UK', who do such necessary work in researching the disease; and in supporting carers and loved ones affected by the illness.
I've been a keen climber and mountaineer for a few years now, and because charitable giving is an important part of what we do at the Humanist Association Scotland, I decided to set myself the challenge of climbing the height of Everest, on the north face of Ben Nevis – with any funds raised going to Parkinson's UK.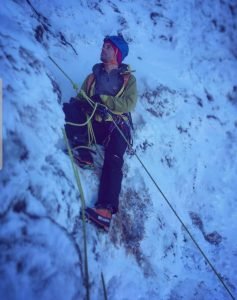 The height of Everest from base camp, is just over 12000 feet. I'll be climbing around 13000 feet, ascending various routes on the north face of Ben Nevis. The short winter days require me to split the challenge over two days, so I've given myself a 48-hour window in which to cover 13000 feet of ascent, 15000 feet of descent, and 25 kilometres of distance.
Winter conditions have been particularly fickle this season, but the plan is to complete the challenge in mid March, when there should be reliable winter conditions high on the North Face, and slightly longer daylight hours in which to climb. I'll be solo climbing the routes, which contain elements of technical climbing harder than that found on Everest, but fortunately for me, I'll not be battling against altitude sickness and low levels of oxygen, so you win some you lose some.
As a Celebrant with the Humanist Association Scotland, I'm proud of the charitable work we do, and of the causes we support, and I just hope that in some small way, with the help of my colleagues, I can contribute to the vital research into this most horrible of degenerative diseases. It's been truly humbling to watch the bravery and dignity of Jane, my step-mum, as she's battled Parkinson's disease, with the unwavering love and support of my dad by her side. I'm proud to take on this challenge with Jane and my dad in mind. Even climbing Everest looks easy in comparison to the battle they face up to together, every single day.
To support Ashton – https://justgiving.com/fundraising/ashton-easter