During this unprecedented time, I been reminded daily of the things that are important in life. There has been so much suffering in our communities whether it be loss of a loved one, loss of employment or loss of everything familiar. Life has become uncertain and we have all had to try to bear and cope with high levels of uncertainty.
I have been struck by the powerful impact that simple symbolic gestures can have on people. Like children collecting and decorating stones from the beach, then leaving them on the doorstep of close friends and family members or taking the time to post to key workers on the front line. A symbolic gesture is defined as the use of non-verbal communication made to express a feeling or idea. For me, it conveys a message of 'holding someone in mind' which is particularly important when you are unable or prevented from being with someone you love, or you care about.
It led to me thinking about the use of 'symbolic gestures' during Humanist Ceremonies, which affords people the opportunity to incorporate meaningful and poignant moments to personalise and celebrate their unique story. When you mention symbolic gestures in a Humanist Ceremony, people tend to think about 'Handfasting', 'Drinking from the Quaich' or 'Lighting Candles' among many others. While these are incredibly special, I personally treasure, the simple heart felt small gestures that completely personalise a Ceremony whether it be a Funeral, Wedding or Naming Ceremony. The use of a beloved Grandmothers ring, the precious material kept from a Mothers' wedding dress, so it could be incorporated into her daughter's wedding dress or the careful selection of piece of music that a favourite Uncle regularly played on the piano. I feel privileged to have shared many 'symbolic gestures' during my time as a Humanist Celebrant but also through my work with children and families.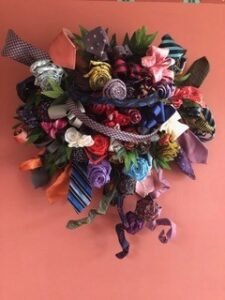 There are too many to mention, one that came into my head recently, was whilst visiting the beautiful island of Madeira. On our adventures we came across a Wedding Ceremony set in the breath-taking scenery high up in the hills. My eyes were immediately drawn to the bride's unusual bouquet which was made up of brightly coloured swatches of material in the shape of flowers.
We later learned that very sadly the bride's father had recently passed away and her bouquet was made up of all his favourite ties. Her father was renowned to be a smartly dressed gentleman who was rarely seen without a tie. I felt incredibly touched by this 'symbolic gesture' which allowed this bride to hold her father in mind and provided a sense of his presence throughout her special day. For me, the impact of 'symbolic gestures' should never be underestimated.
So, if anything, I hope recent times have taught us 'how precious life can be'. And how important it is to treasure those we love, care and those who we are simply thinking about , as through the expression of every day symbolic gestures , we can all help people feel 'held in mind' by those around them.
Laura Craddock