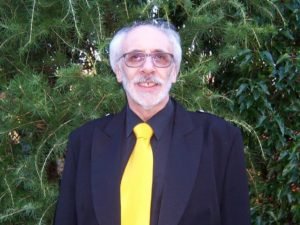 After working in the Insurance Industry for over 35 years I happened to attend a close friend's father's  Humanist funeral and came away with a deep sense of "everyone should have the opportunity of being said goodbye to in that way". Two years later in 2007 I qualified as a Humanist Celebrant conducting funerals initially and in 2008 I became a Registered Celebrant authorised to conduct Humanist Weddings and have never looked back.
I have met some of the most wonderful people that can be imagined and I approach every single Ceremony as it were a new one and give each and every one 100%. Every single one is different, personal, and can be humorous or serious depending on what the family or the couple in respect of a wedding want, it's not what I want or anyone else wants. Anything I write and deliver is spoken plainly and from the heart making sure it's  warm, sincere and meaningful.
A Wedding Ceremony is the start of every couple's big day and should be fun, relaxed, enjoyable and memorable, and for all the right reasons, setting the tone for the day and helping to make sure the guests feel as part of the Ceremony as the couple and their family.
Funerals are  about helping the family at a time when they need help and telling their loved one's story, warts and all, always being truthful but never hurtful. What nicer a way is there of saying goodbye than stirring the memories of all who attend and most especially the family, bringing a smile to everyone's faces as they remember the good times they spent with the one they have lost.
Naming Ceremonys are very special too, it's welcoming a new tiny person or even not so tiny a person into the family, to say to them "we are here for you" giving them support and a promise to be there to help if needed.
All my Ceremonies are done with the full cooperation and inclusion of the family, the couple, the parents, nothing is ever said that they don't know about or want, which gives complete confidence in the Ceremony being exactly what is wanted.
Being based in Aberdeen city I mostly cover the North East of Scotland but am open to suggestion. To contact me or just to have a chat you can phone or text me on 07900 098125 or email on bob@humanistassociationscotland.com
Wedding Testimonials
"We wanted to say a big thank you for our lovely wedding ceremony, it was emotional, funny and personal all in one! We have had so many good comments from our guests saying how much they loved the ceremony. We will certainly recommend you to everyone, Best Wishes Sarah & Jason"
"We just wanted to say a huge thank you for marrying us and carrying out such a lovely service. From the moment we met you were so lovely and put us both at ease for the big day. From the minute I got up I made sure to enjoy every minute like you said and we really did. The ceremony was so personal, we loved every minute and all our guests have said how great it was. We had the most amazing day and will cherish the memories forever. Thanks for making our day so special." Nicola and Matthew.
"Thank you so much for conducting our ceremony and supporting us leading up to our wedding. It was great for Ali and I to have someone who we got on well with and took the time to understand us, we really appreciated it. Everyone said how beautiful the ceremony was and your words saying how personal it was. Thank you again, all the best Emma and Ali."
Funeral Testimonials
"This is just to say how we all appreciated the way you took John's service. Everything went so smoothly, it was great. The main thing was that you made it so personal, all our friends who were there remarked that it wasn't at all gloomy and that was what we wanted. You were very kind, understanding and sympathetic with all the family in the nicest possible way, Sheila"  (Funeral for John)
"Thank you so much for the gentle and dignified way you conducted the ceremony for Fraser. From the conversation you had with the family you produced and delivered a wonderful, fitting tribute which reflected the man he was. We thought your choice of quotations very appropriate and meaningful. Thank you for your kindness and guidance, Kindest regards Iona"  (Funeral for Fraser)
"I am so grateful for the dignified manner which you gave to Doreen's funeral. I have absolutely no regrets or thoughts of, we should or shouldn't have done this or that and to have that feeling means so much to me, thanks to you. I feel that I would have had a burden of some sort of regret by a service performed or done in any other way. I hope that me saying this to you gives you great satisfaction in what you are doing, thank you again Bob." Joe (Funeral for Doreen)